Gamification has emerged as a powerful method for captivating audiences in various domains, and digital banking is no exception. Below, we showcase real-world instances of gamification in digital banking, demonstrating the practical application of these concepts.
1️⃣ CIMB Bank – OctoChallenge
CIMB OctoChallenge, an interactive service within the CIMB mobile banking app, offering a fully digital banking experience. Users can enjoy not only convenience but also the opportunity to earn instant rewards through exciting challenges and more.
A standout feature is OctoChallenge, seamlessly integrated into CIMB's mobile banking app. It incorporates point systems, progress tracking, interactive missions, and gamified elements.
Moreover, the platform converts customers' financial and digital activities into achievements, granting access to vouchers from popular e-commerce platforms. This gamification element adds an extra layer of engagement and enjoyment to the banking experience.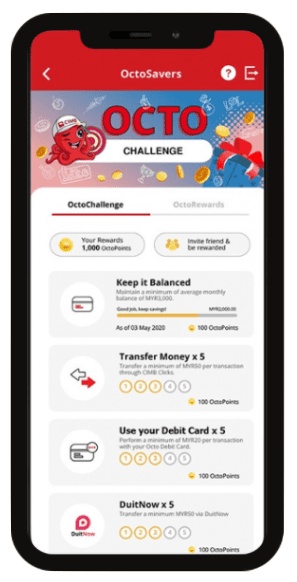 2️⃣ Standard Chartered Bank – Twist & Win
Standard Chartered Bank presents Twist & Win – a gamified campaign designed to add an element of surprise to your credit card transactions.
This unique gamification experience is seamlessly integrated into the bank's mobile app. It starts with a personalized onboarding process for invited customers and continues with real-time assessment and the random allocation of cashback. The fun part? It's all presented through an interactive animation, featuring an in-app gumball machine that dispenses cashback.
Standard Chartered Bank aimed to encourage greater credit card usage, and they saw a substantial increase in customer participation and spending during the campaign's promotional period.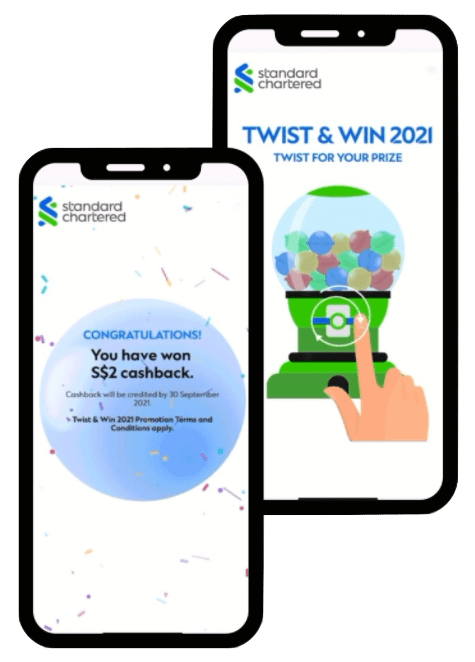 3️⃣ Moneythor Library – Saving or spending quests
A growing trend in the realm of financial institutions is the adoption of long-running quests, featuring well-defined objectives and milestones, presented in a visually engaging board game-like format. These quests are gaining popularity as they aim to enhance customer interaction and promote either savings or expenditure over an extended duration.
Unlike programs that reward customers for individual transactions, Moneythor Library motivates customers to boost their savings through recurring trends and accumulated savings or expenditures. Along the journey, customers achieve significant milestones, unlocking associated rewards selected by the banks, which may include points, badges, merchant offers, or cashback.
Furthermore, Moneythor nudges customers who may not be actively participating or are on the verge of reaching a significant milestone. This approach reignites their interest and keeps them engaged in their financial journey.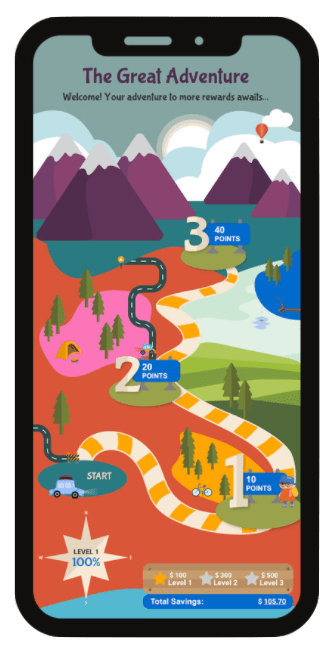 Source: moneythor.com
️CONCLUSION
These real-life instances of gamification in digital banking show how it boosts user engagement and encourages desired actions. As digital banking continues to advance, gamification is poised to be a key factor in shaping a more enjoyable and beneficial banking experience for users. 
If you want to create a gamification campaign that yields more benefits for your banking business, contact Elofun now!
Business Contact
✔️ Email: contact@elofun.com
✔️ SĐT: +84 868 887 888
Find out more about us
👉 Fanpage: https://www.facebook.com/elofun.entertainment
👉 LinkedIn: https://www.linkedin.com/company/elofun-entertainment
👉 Youtube: https://www.youtube.com/@elofun
👉 Tiktok: https://www.tiktok.com/@elofun.entertainment